Receive accurate and detailed report for your team's timesheets with our Timesheet Details report. Analyze timesheet cost per employee, task, project, customer and more, or quickly see who has submitted timesheets for approval. Our customizable filters allow you to capture the precise information you need, grouped and filtered by your preference.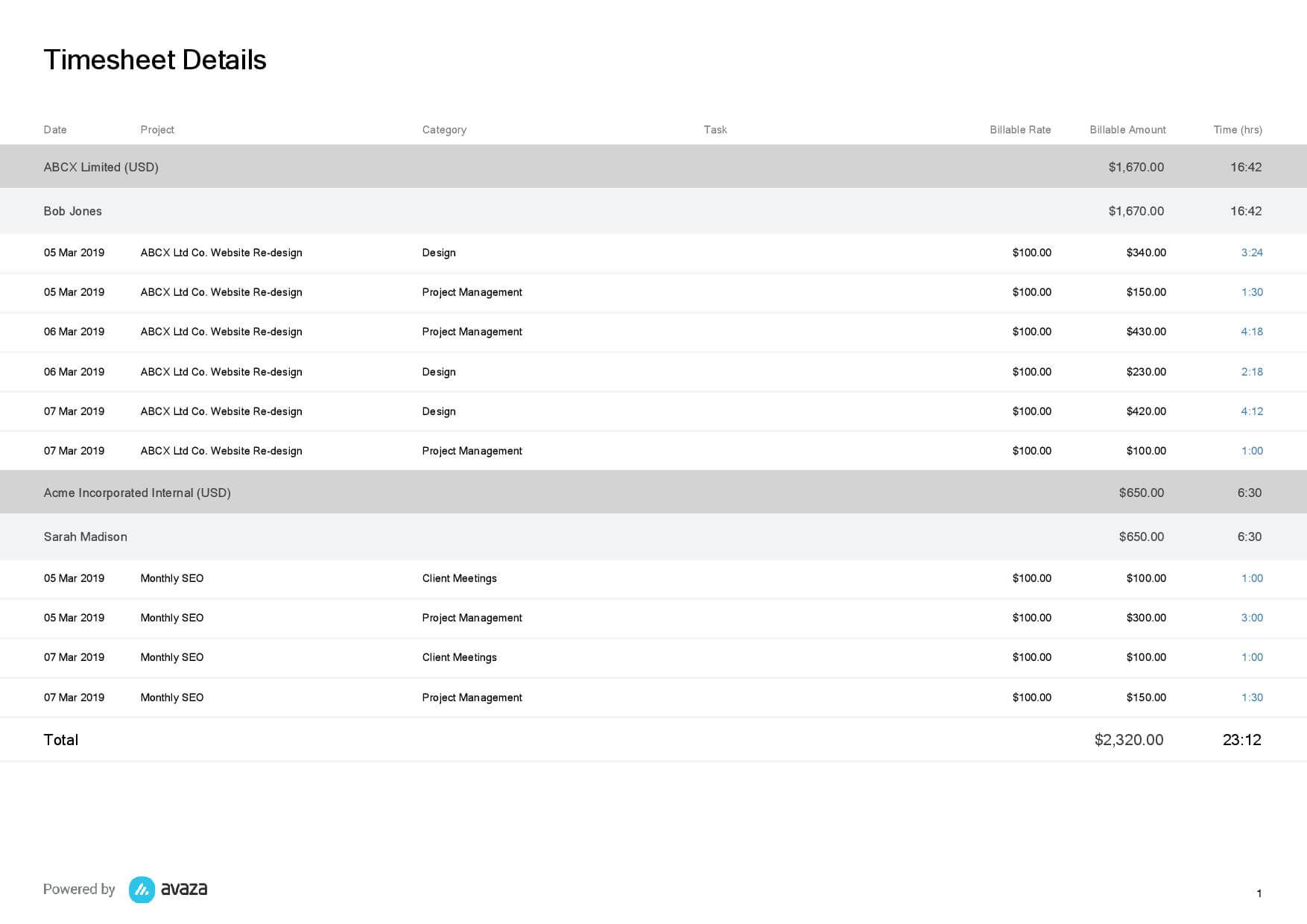 Figure: Timesheet Details Report Grouped by Customer, Project, and User
A few reasons to use this report
Get a payroll report with a summary of your employee timesheets, with their cost, for a chosen date range. Schedule the report for delivery to your accounting department for payroll processing.
Export a list of all timesheets and their details for a particular invoice to provide your client with supporting documents during billing. This report can be attached to an Avaza invoice as well.
See total timesheet cost for each task, and compare the total hours logged per task to the estimated hours you had entered.
Get a summary of total vacation time tracked by each time member.
Monitor what your team is spending time on when you group the report by User and apply subgroupings such as task, timesheet category or project.
View total time spent per customer and project for each week or month and schedule the report so you and the client have this information at your fingertips.
View all timesheet entry notes to gain more insight on what your team was working on.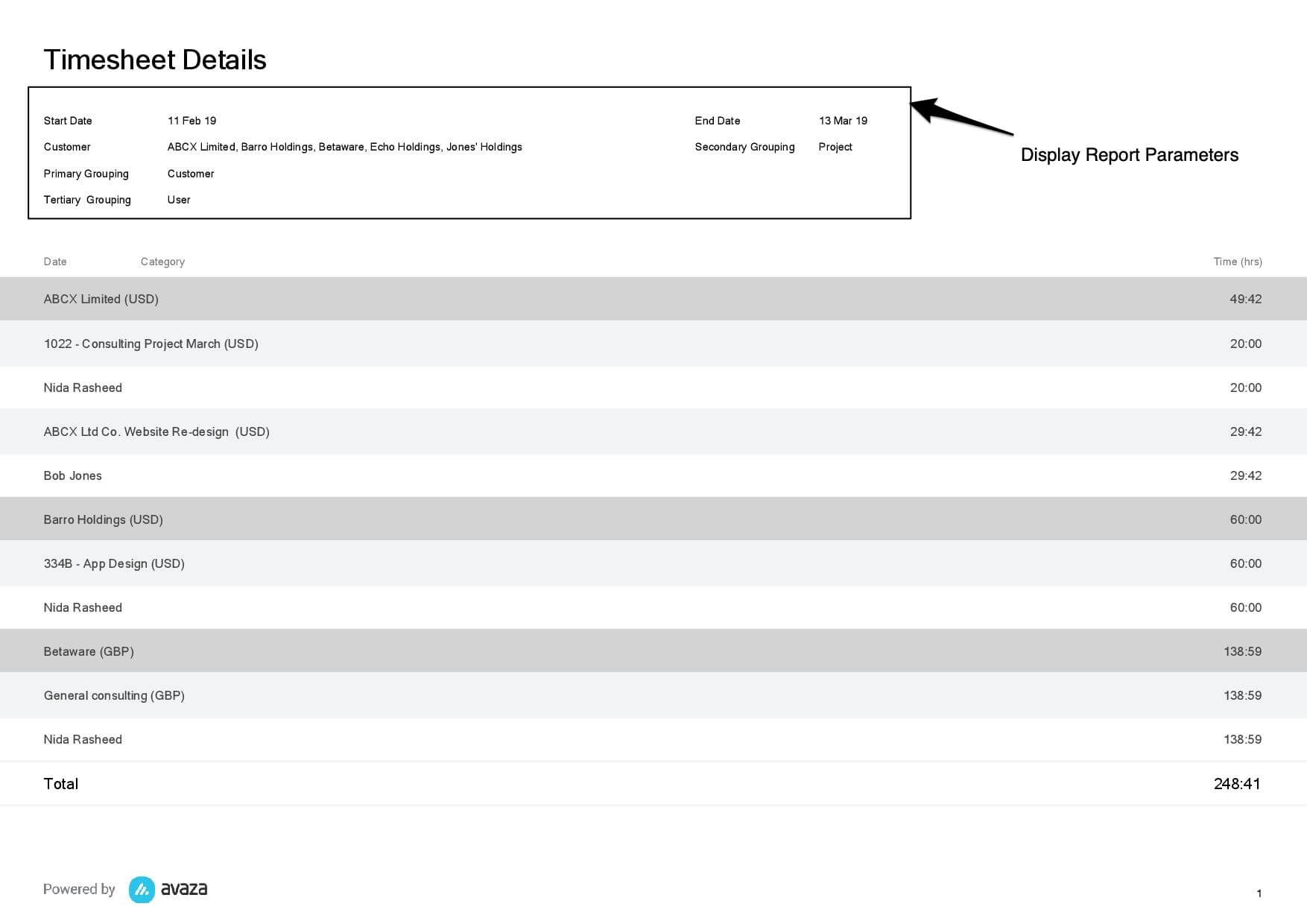 Figure: Timesheet Details Report with Parameters Displayed and Individual Entries Hidden
Report Parameters
While this report runs by default for last week, it is highly customizable and you can choose from multiple groupings, filters and column options, along with other useful report parameters.
Date Range:
The following pre-defined date range options are available.
This week
This month
Last Week (selected by default)
Last Month
Last 30 Days
Last 60 Days
Last 90 Days
This Year
Last Year
All Time
Custom Date Range (allows you to choose a custom date range in the next parameter)
Timesheet Date From & To:
Enter a custom start date range to run the timesheet report for.
Groupings
Many of our reports allow you to group data. The Timesheet Details Report has three available grouping options:
Primary Grouping
Secondary Grouping
Tertiary Grouping
These groupings include the following options:
Date
Customer
Project
Category
User
Task
Section
Status
Month
Billable?
Week
Project Category
Invoice Number
We subtotal the duration, cost and billing amounts when data is grouped. The only exception to this is when a chosen grouping has projects in multiple currencies. In that case amount fields display N/A as amounts from different currencies can't be added up.
Customers: Select the customer(s) you want to run the report for. You can select one or more customers as needed.
Projects: Select the project(s) you want to run the report for. You can select one or more projects as needed. You can only choose a project after one or more customers have been chosen.
Timesheet Categories: Filter based on timesheet categories the timesheets are recorded on. This is very useful if you only need timesheets for one type of work, for example, meetings.
User Tags: User Tags can be created and assigned to team members as needed. These can be useful to filter the user list down to just one team, for example design team, customer support etc.
Users: Choose specific users you want to run the report for.
Status: Choose which status of timesheets you want to run the report for. Statuses include: Draft, Pending, Approved, Automatically Approved, Rejected and Invoiced.
Only Billable?: Use this filter to exclude billable, or non-billable, timesheets as needed from the report. This can be useful if you want to send a client a list of all billable timesheets.
Rounding [checkbox]: This checkbox applies rounding to the report based on your account settings. This shows you what the durations will look like when added to an invoice.
Time Format: Choose whether the report output should show hours in hh:mm or hh.mm.
Invoice Number: Filter the timesheets based on the invoice they were added to. You can use the Invoice number to filter for one or more invoices.
Show Columns
Date (default)
Customer (default)
Project (default)
User (default)
User Tags
Category (default)
Approved Dates
Notes
Status
Approved By
Billable?
Tasks
Task Tags
Sections
Invoice Number
Created Date
Task Estimate: Shows task estimate hours when grouped by task only
Rem Hours: Shows remaining hours on a task when grouped by task only. This is calculated by subtracting hours logged on a task from the total time estimated.
You can add up to 11 columns on this report.
Hide Individual Entries [checkbox]: Hide individual timesheets on the report output. The display will only include any available groupings you had selected, as well as the duration and amount fields that can be aggregated on grouping rows.
Start/End Timezone: Choose whether Timesheet Start & End times should be shown in Timesheet User Timezone or Account Timezone.
Project Tags: Filter the projects based on project tags.
Project Categories: Filter projects based on project categories.
Created Date From & To: Filter the timesheets based on the dates they were created on. This allows you to audit when timesheets were created.
Remove Currency Formatting: Removes currency formatting so the columns can have formulas applied to them after the report is exported to Excel.
Display Parameters on Report: Display the parameters used to run the report at the top. Select this option if you will like the exported report to include the parameter values used to run the report.
Task Tags: Filter the timesheets based on the tags assigned to the tasks timesheets are tracked on.
Approved Date From & To: Filter the timesheets based on the date range they were approved on.
We hope this guide was useful. 🙂 Need further help with the Timesheet Details report? Please contact our support team via chat or email.