Gain visibility into your own spending using My Expense Details report. This report allows you to analyze your expenses per project, customer and more. Additionally, this report can be exported for record keeping or to provide to a client.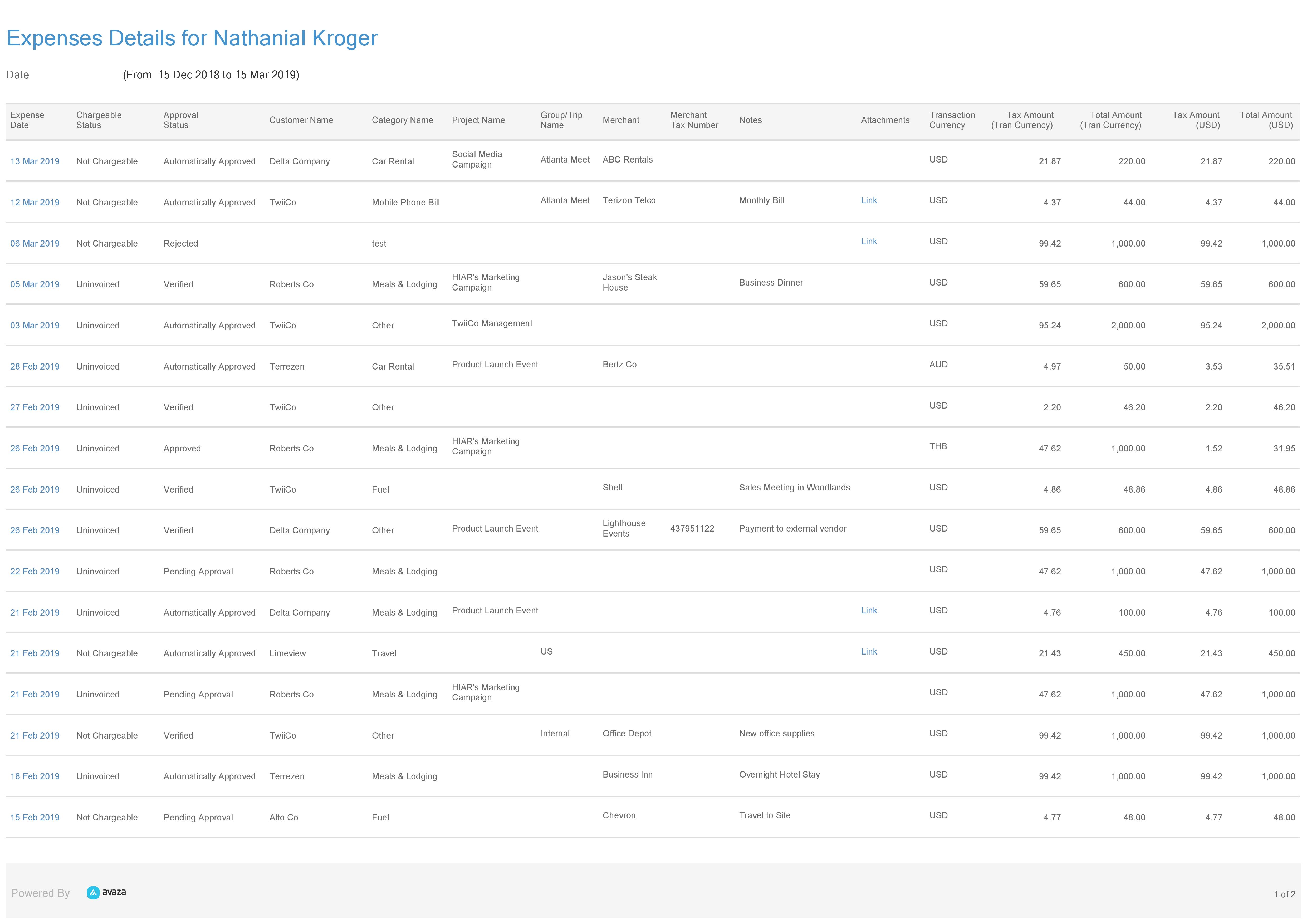 Figure: My Expense Details Report
A few reasons to use this report:
Keep track of your personal spending on different client projects

Schedule this report for delivery

to better understand what your spending was on for a given period

Export a list of all your expenses for personal or official record

Reconcile the filed expenses with your actual spending and view the notes to understand the expenses better
Report Columns
Expense Date

Chargeable Status

Approval Status

Customer Name

Category Name

Project Name

Group/Trip Name

Merchant

Merchant Tax Number

Notes

Attachments

Transaction Currency – The currency in which the actual expense was incurred

Tax Amount(Transaction Currency) –

Tax amount in Transaction Currency

Total Amount(Transaction Currency) –

Total expense amount in Transaction Currency

Tax Amount –

Displays the tax applied on the expense in the Account Currency

Total Amount –

Displays the total expense amount in the Account Currency
Click here to view the logic behind the conversion of Expense Amounts into Account(Base) currency.
Report Parameters
The report offers an array of options in terms of filters, which allows for a customizable report.
Customer: Select the customer(s) you want to run the report for. You can select one or more customers as needed.
Project: Select the project(s) you want to run the report for. You can select one or more projects as needed. You can only choose a project after one or more customers have been chosen.
Date Range:
Some custom date ranges are available such as:
This week

This month

Last Week (selected by default)

Last Month

Last 30 Days

Last 60 Days

Last 90 Days

Year To Date

Last Year

All Time

Custom Date Range (allows you to choose a custom date range in the next parameter)
Start Date From & To:
Enter a custom expense date range to run the expense details report for.
Expense Category: Filter expenses based on categories they are tracked on. This is very useful if you only need expenses for certain categories (e.g. Travel, Entertainment, Meals etc)
Expense Chargeable Status: Filter expenses by their chargeable status. The options include Invoiced, Not Chargeable, Uninvoiced
Expense Approval Status: Filter expenses by their Approval status. Options include Draft, Verified, Pending Approval, Approved, Automatically Approved, Rejected
Currency: Filter out the expenses which have been tracked in the currency selected here
Group/Trip name: Filter the expense by specific group/trip names
Project Archive Status: Filter the report to see the expenses based on the Archive Status of the linked Projects. Use this filter to see only those expenses that belong to Active, Archive, or both types of projects for the selected date range. Please note that in addition to filtering the report output, selecting an option from this parameter also filters other relevant parameters like Customers, Projects, etc.
We hope this guide was useful. Need further help with the My Expense Details report? Please contact our support team via chat or email.