We are excited to present the latest addition to the Avaza Project dashboard – the Project Invoices widget. This widget empowers Project Managers to keep track of all project-related invoicing amounts seamlessly.
What data is included in this widget?
The widget provides a consolidated view of all line items associated with the project, grouped by invoice. It showcases not just the amounts, but also includes the invoice number, subject, invoice status, issue date, and due date. Users, granted the necessary permissions, can click any record to access the Invoice Details page.

How to add this widget?
To add the Project Invoices widget to your project, simply navigate to an existing project, select the Summary tab, and click on the Add to Dashboard button. From the list, select the Project Invoices widget, and it will be added to the Project Summary page.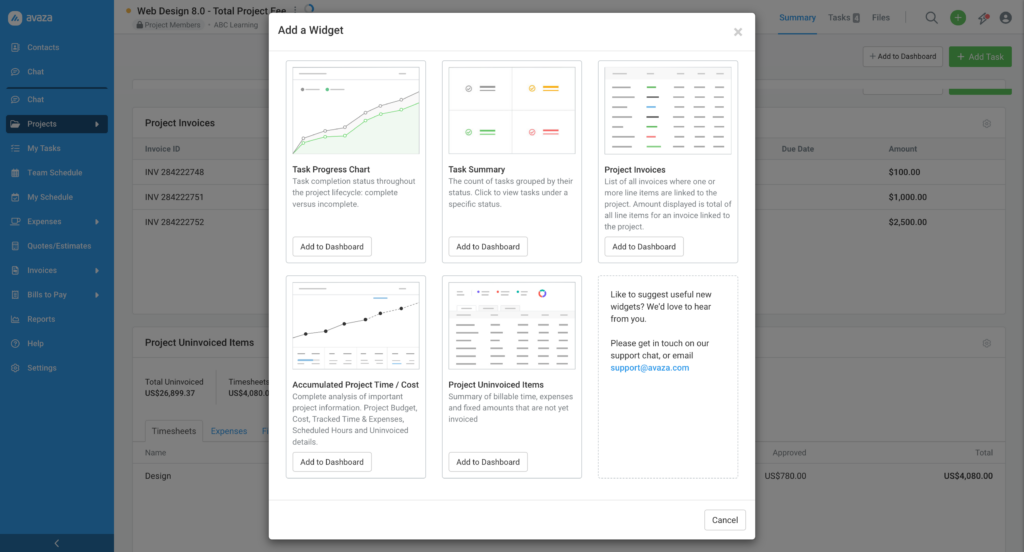 Who has access to this widget?
The widget is accessible to all users with Admin, Portfolio Manager, Project Manager and Finance Manager roles. However, for users with solely the Project Manager role, the following project member level settings need to be enabled for them to access the widget's content:
Can manage Project Member Cost & Billable Rates
Can manage Fixed Amounts on Projects
We hope you enjoy this new feature.

Best wishes,
The Avaza Team