The Customer Statement report displays a consolidated list of transactions carried out for a customer. This report lists all financial transactions for a customer, including invoices, credit notes and payments. Keep track of customer balances, or use this report to inform them of the amount they owe you.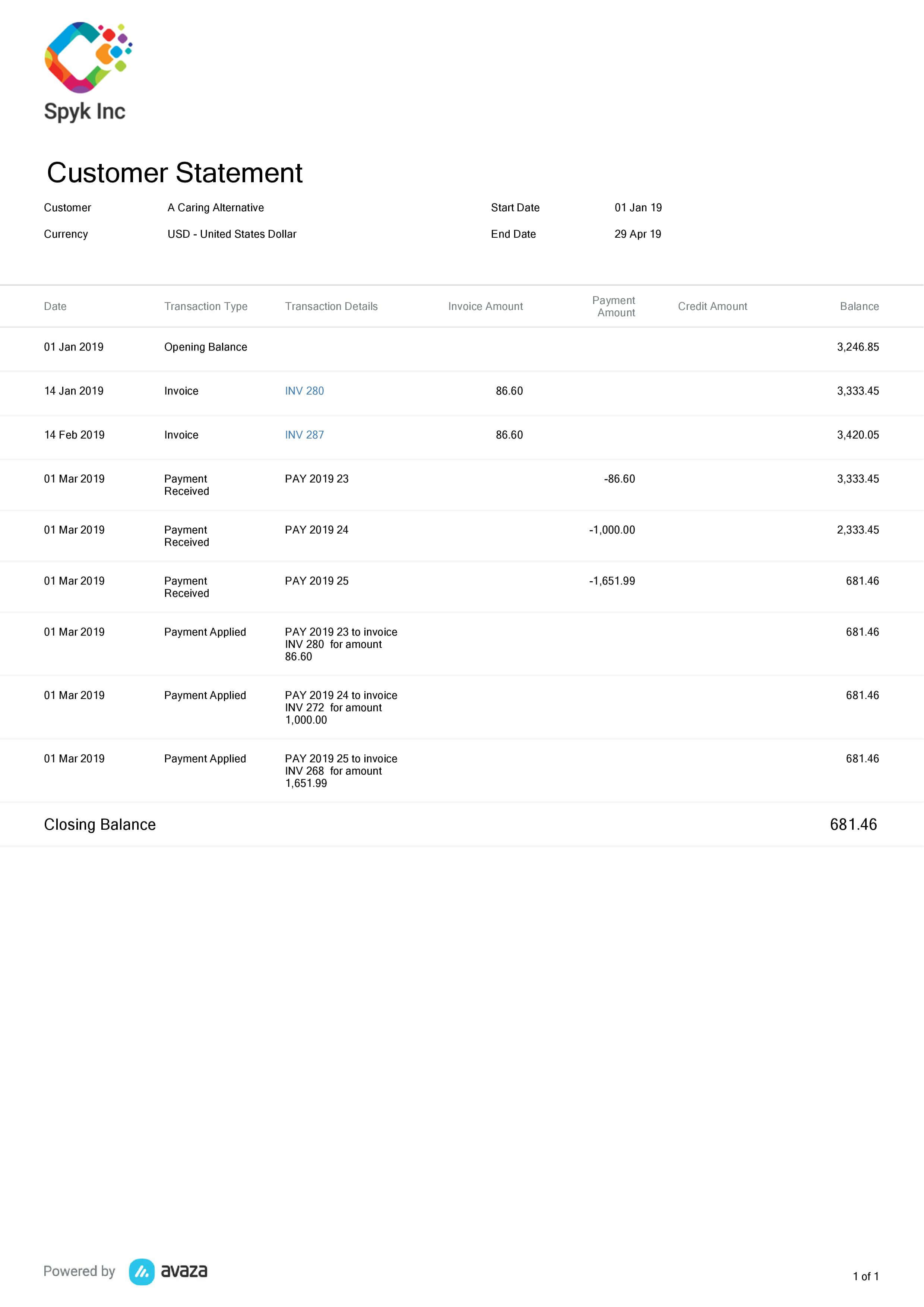 Figure: Customer Statement Report
A few reasons to use this report:
Keep an eye on how much your customer owes you, or vice versa
Schedule this report for delivery to your client every month so they are always informed of the account balance.
Report Display
The report is split into two sections; a header and a list underneath with all the transactions.
The report header displays your company logo (as on your default Invoice template). It also shows the customer the statement has been run for, the customer currency and the Start and End date for the report.
A detailed list of transactions and running balance can be found under this header. The first row always displays the Opening Balance for the customer.
This list includes columns for:
Date: The transaction date.
Transaction Type: Invoice issued, Credit Note, Payment received/applied to invoice.
Transaction Details: See a description of the transaction, including which invoice a credit note or payment was applied to, or a clickable Invoice number that takes you to the original transaction.
Invoice Amount: Total invoice amount, including tax.
Payment Amount: Payment amount.
Credit Amount: Credit Note amount
Balance: Balance for the customer.
Report Filters
This report has the following filters:
Customer: Select the customer you want to run the report for.
Date Range:
Year to Date (selected by default)
Last Year:
This Month
Last Month
Custom Date Range (allows you to choose a custom date range in the next parameter)
Start Date – End Date
Enter a custom start date range to run the Customer Statement report for.
Do you need any further help with the Customer Statement Report? Feel free to contact our support team via chat or email.