Avaza's Resource Scheduling module allows booking team members to Projects and Project Tasks based on their availability. This allows you to take into account their working hours, holidays and workload when managing assignments.
For improved integration between Project Tasks Management and Resource Scheduling, we have added the ability to keep changes to task assignments and resource bookings in sync.
Avaza is unique in its ability to seamlessly connect the work life-cycle from project planning, through work allocation, scheduling and Timesheet creation, to save you time and allow you to more efficiently run your team. Here are all the details…
Easily schedule your project resources with task/resource scheduling link and create schedule assignments directly from tasks.
This feature allows you to create schedule assignments from tasks and keeps them in sync when either are updated. For example, task assignments, and start & due dates can be kept in sync with the resource schedule booking for that task.
You can create and update tasks and linked schedule assignments from all task-views in Avaza, including list-view, Kanban and Gantt Charts.
We've also retained the flexibility for teams that want to use Task Management and Resource Scheduling independently of each other, or want to link multiple schedule assignments to a single task. Teams that do not need Resource Scheduling can switch the entire module off from the Scheduling Settings page.
Create Schedule Assignments from Tasks
You can now create corresponding schedule assignments while creating a task in Avaza. Users with permission to create tasks will be able to create schedule assignments for teammates with the scheduling user role.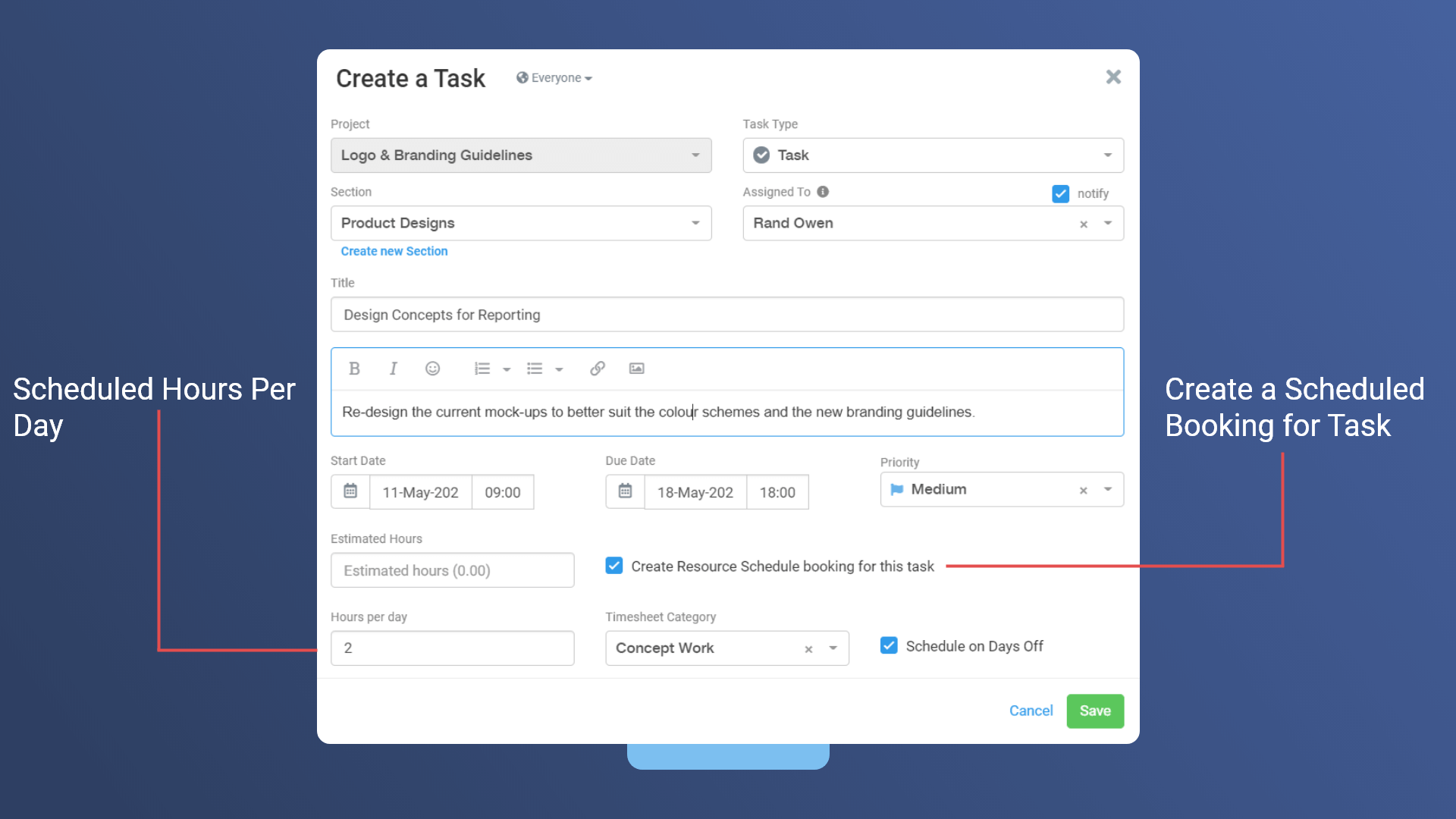 When you assign a new task to a project member, you will see a checkbox at the bottom of the popup called "Create Resource Schedule booking for this task".
Clicking on this will open the fields required to create the schedule booking, including Hours per Day, Timesheet Category and the option to Schedule Users on Days Off.
You'll also notice that the Team Schedule page now displays linked tasks on Schedule Assignments.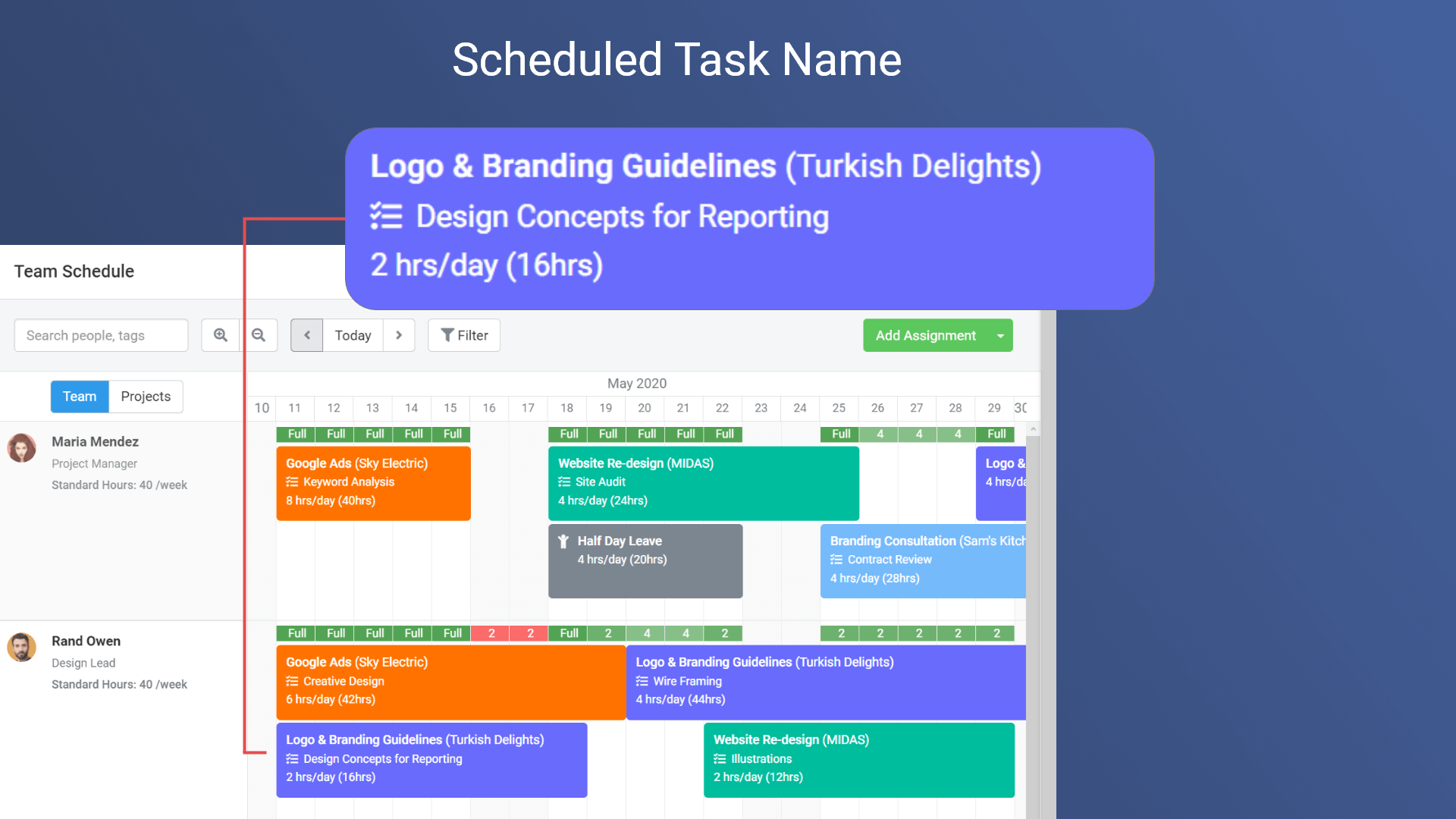 Sync Team Schedule and Project Tasks
Where only one schedule assignment is linked to a task any changes made to the common fields will be applied to both the schedule assignment and the task. This can be done in any of the task views: List-View, Kanban Boards, Gantt Charts.
The common fields are:
Assigned to User
Start Date
End Date (Due Date)
Some of the common scenarios are listed below:
Changes to common fields on task will update the linked schedule assignment. This includes changes made via:

Task Edit popup
Drag & drop on List and Kanban boards when grouped by Assigned To
Resizing or moving tasks on Gantt Chart, including dependent tasks if auto-scheduling is switched on.

Changes to common fields on schedule assignment will update the linked task. This includes changes made via:

Edit Booking popup on Team Schedule page
Drag & drop on Team Schedule page
Resizing assignments on Team Schedule page.

Re-assigning a task to a user without scheduling user role will delete the linked assignment.
Unassigning the task will delete the linked schedule assignment.
These changes can be made by anyone with access to update tasks or manage the Team Schedule page.
The Task Edit popup will now have an additional tab that can be accessed by Schedule Managers and Admin users. This tab allows them to manage existing bookings linked to each task. They can also add additional bookings to tasks from this tab.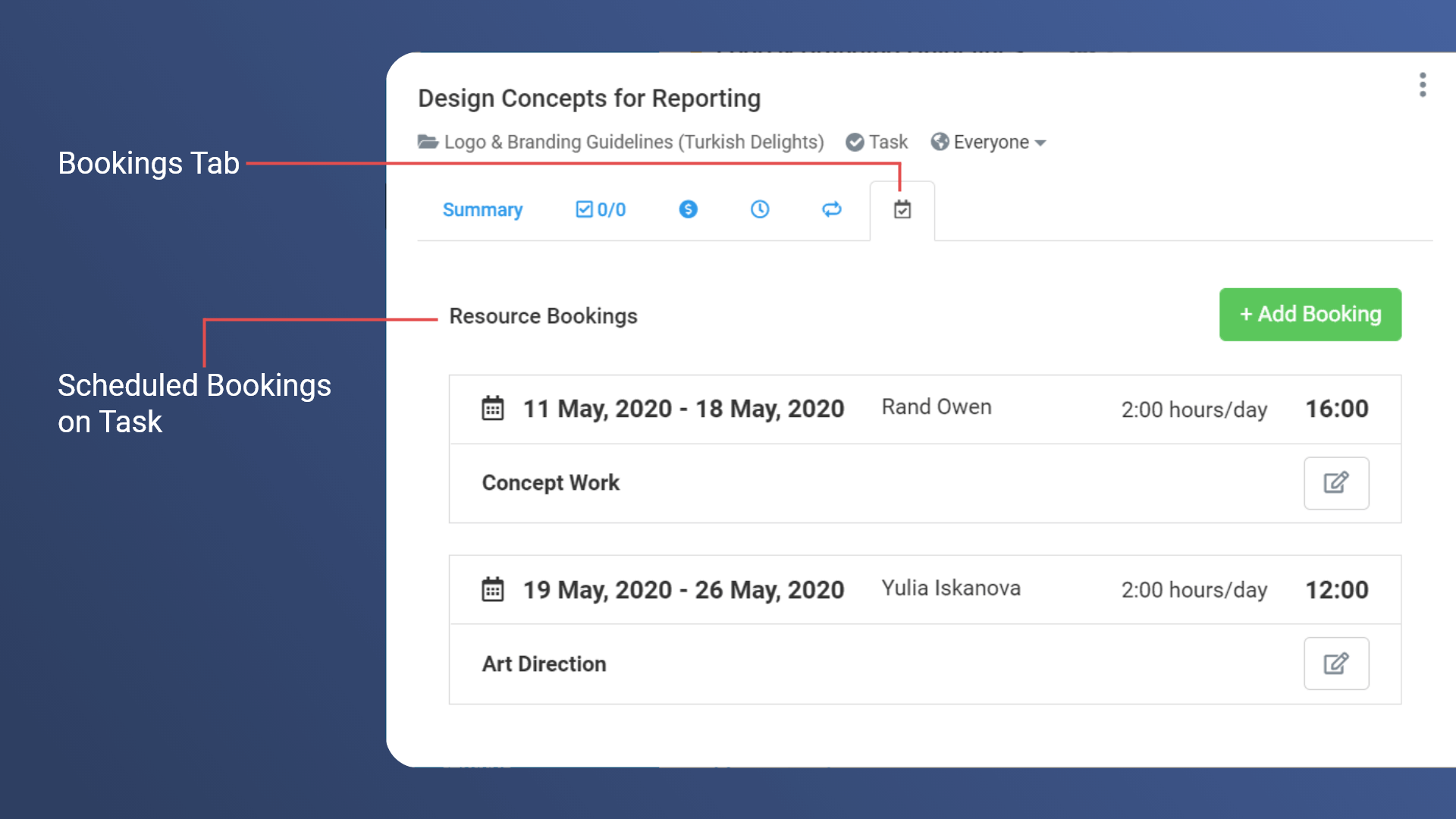 Tasks and Schedule assignments will not be synced where multiple schedule assignments are linked to a task.