To change the default invoice settings, navigate to the Settings > Invoice Settings.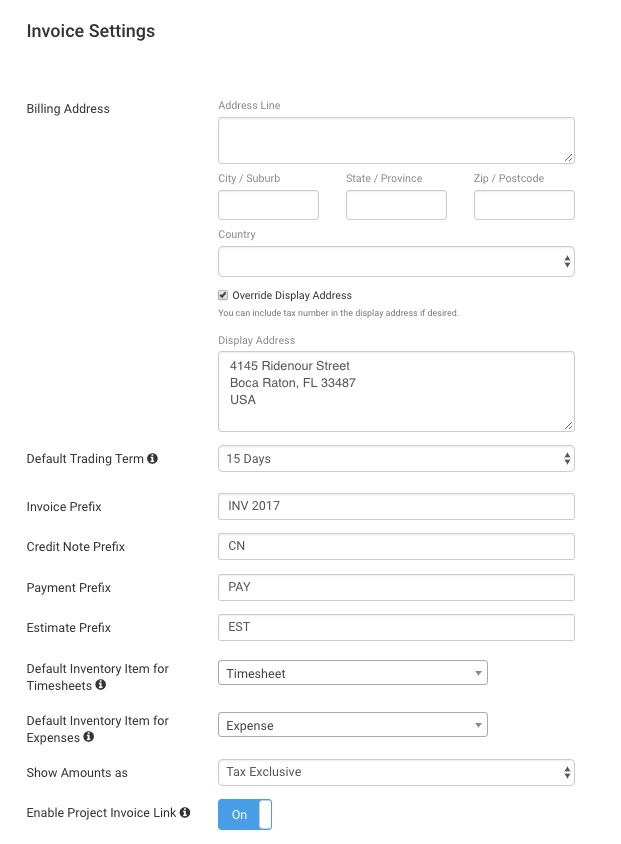 Figure: Configure Default Invoice Settings
Billing Address
This is your default billing address. You can use the structured address fields or add it under the "Display Address" area. You can override the address at the template level. We recommend entering the Tax/Business number in this field if it is a legal requirement in your country. This will be displayed right under your address.
Default Trading Terms
The Trading Term field is used to calculate the Invoice Due Date based on the selected Issue Date. All new customers will inherit the default settings, however, you can override the terms while creating a new invoice by choosing between "Upon receipt" or 7, 15, 30, 45 and 60 days.
Invoice/Credit Note/Payment/Estimate Prefixes
The prefix is optional and can be removed or changed manually to include any alphanumeric values. If assigned by default, each new transaction generated will have the prefix and last highest number +1 (for example INV-100, INV-101, INV-102, … ).
To reset the Number for any of the transaction types, you can simply assign a new prefix. The next Invoice/Estimate/Credit Note/Payment number will automatically be set to 1 and then be increased in a sequential manner based on the last highest number used.
Default Inventory Item for Timesheets/Expenses
This sets the default Inventory Item when adding Timesheets & Expenses to Invoices. Inventory Items are the products and services you want to quote or invoice for, refer to this guide to learn more about managing inventory items.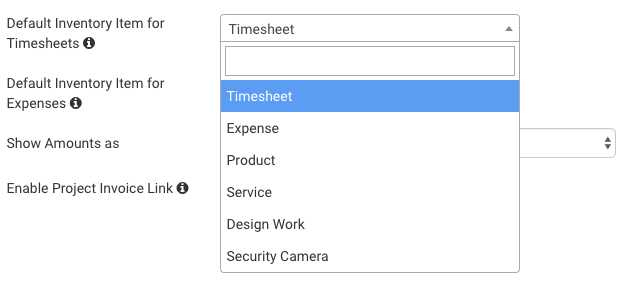 Figure: Select Default Inventory Item for Timesheets
The inventory items chosen as defaults for Timesheets and Expenses cannot be deleted.
Show Amounts as
This option allows users to define if the invoices should be Tax Inclusive or Tax Exclusive. You can manually override it while creating a new invoice.

Figure: Show Amounts as Tax Exclusive or Tax Inclusive
Enable Project Invoice Link
Enabling this feature allows users to link each Invoice Line Item to a specific project for a client. Read more about this feature here.
Recurring Invoice Send Time
When creating a recurring invoice, you have the option of changing the time when they are sent out. For more information about setting up recurring invoices, refer to this guide.

Figure: Set a Specific Time for Sending Out Recurring Invoices 
Invoice & Quote/Estimate Templates
The Invoice/Estimate Templates section lets you customize your Invoices. You can create multiple Invoice templates and brand each one differently by uploading your logo. You can also enter default notes, override invoice labels and enable online payment options.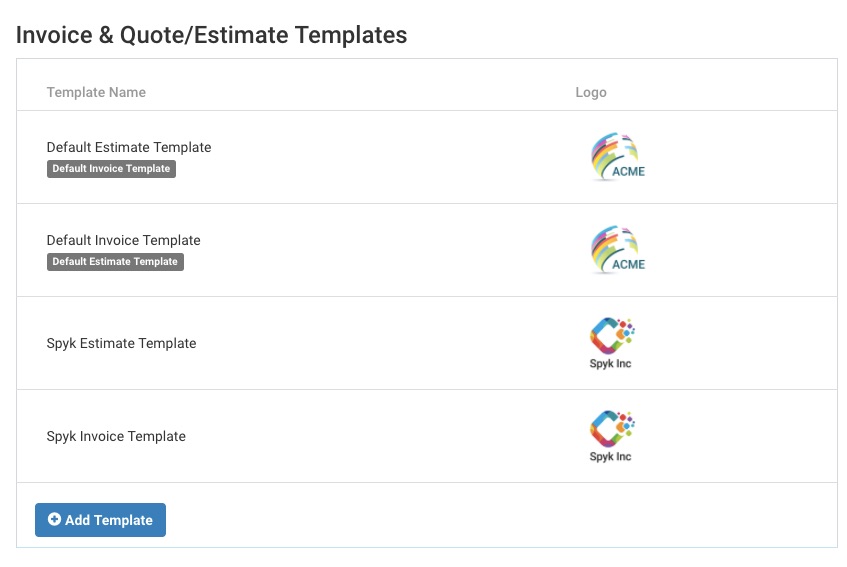 Figure: Edit an Invoice & Quote/Estimate Template
Read more about setting up Invoices here.